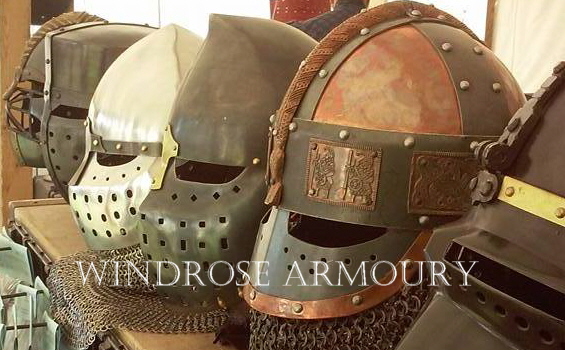 Updated 9/14/2018
Welcome to the New and Improved Windrose Armoury Website!
The website has been updated with the post-Pennsic numbers.
We will be off to Great Western War in a couple of weeks. If you want us to delivery anything to you there, please put your order in as soon as possible. The cut off date for Great Western War deliveries is Thursday, Sept. 27.
◊◊◊◊◊
In-Stock Shield pages have just been updated. Don't want to wait 7-10 days for the building of a custom shield? Take a look at what we have In Stock.
◊◊◊◊◊
Please, don't let estimated shipping rates scare you off!
As shipping prices from our carriers continue to rise we get more and more questions about the huge estimates that come from the USPS shipping calculator, especially on larger items like shields. As we explain on our Shipping and Returns page, when preparing packages for shipping we take into account the shipping method the customer has opted for, the actual retail shipping rates quoted by the various carriers, and the cost of the materials necessary to pack the order for safe delivery. We then ship via the method that is most cost effective for the customer. Shipping costs are a total of the actual retail shipping and insurance charges quoted by the carrier plus any additional handling/packaging costs required based on the merchandise ordered.
If you have questions regarding what the actual shipping costs of an order will be, please drop us an email and we can get you a more accurate quote.
◊◊◊◊◊
If you haven't stopped by the In-Stock Helmet page recently, you should. We've added a number of new helms to the list!
◊◊◊◊◊
We have revised our custom shield order pages. They now have more options and you will no longer have to order your shield basket or boss separately. We hope this will make your shield buying experience a little easier. As always, if you have any questions please call or email.
◊◊◊◊◊
Please Read:We have made some adjustments to how the website uses the shipping calculator, so rates should be a little closer to actuality; at least for small packages. We are still working through developing a rate table for larger packages, like shields and helmets. Due to the huge variation in shield sizes this will take some time. Please bear with us and remember that we charge the actual retail shipping rate plus a small handling fee. Fee rates vary depending on the item(s) being shipped. Please review our Shipping and Returns page for more information.
Even with our changes, the shipping rates in the USPS rate calculator do not take into consideration if an item can go flat rate or not. We always use the most cost-effective method. Usual shipping cost for a thrusting tip is around $9.75 via Priority Mail, not the $16 or so the calculator will quote.
We thank you for your continued patronage and support and wish you all the best 2018 has to offer.
◊◊◊◊◊
Missed our "Contact Us" Page?
***Our address is***
Windrose Armoury
PO Box 2350
Snowflake, AZ 85937
***Our phone number is***
928-536-9635
◊◊◊◊◊
Our event calendar for this year will include all the usual suspects: Estrella War, Gulf Wars, Pennsic and Great Western War. We hope to see you out there.